Sapporo
Sapporo is Japan's fifth largest city and has over 1.8 million people. The city was built systematically based on a grid pattern. Streets are lined with buildings, acacia, gingko, and poplar trees. In the center of the city there are buildings reminiscent of the Meiji Era, 1860's, when Hokkaido was being developed. Sapporo is prefectural capital of Hokkaido,the largest and northernmost prefecture of Japan. Hokkaido is famous for beer, agricultural products and see food. Hokkaido is distinguished for resort in summer and winter. Namely, Hokkaido is the bset place for vacation resort, since you can enjoy any food and any sport & leisure.
---
Airport to Sapporo
From New Chitose Airport to Sapporo station is only 36 min ride on JR local train with rapid service, named as "Airport." The railway tickets are available at ticket-vending machine near ticket gates. The train fare from New Chitose Airport to Sapporo is 1,040 yen. For Rapid Train, no extra-charge is required. The Rapid Train departs at intervals of 15 min from 9 am to 9 pm, but long intervals in the other time.
---
Kaderu 27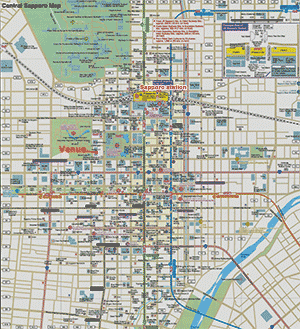 Kaderu 27, Hokkaido Citizned Acives Center, as the venue is located at the west of Hokkaido prefectural office. It is the walking distance from Sapporo station. You can see Botanic Garden of Hokkaido University at the west side so that you may walk around it to find nature of Hokkaido, Japan.
---
Google Map
16th Korea-Japan Symposium on Catalysis
---