FLOOR PLAN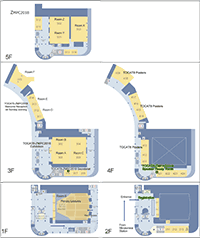 The main entrance of Pacifico Yokohama is located on 2nd floor.
The Main hall is on 1st floor.
Registration and Information is on 2nd floor.

On-site registration is also available, but you can use only Cash or Credit Card for Payment.
Banquet ticket is also purchased at ON-SITE Registration Desk.
Certificate of Attendance will be obtained just on Pick-up of your budge at Registration Desk.
Exhibitions and Conference Secretariat are on 3rd Floor.
Speaker Ready Room, where all the speakers are accessible, is on 4th floor.
Any question and problem will be solved at Registration Desk an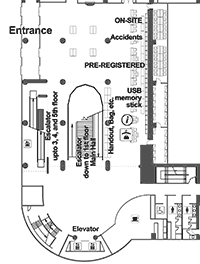 d/or in Secretariat.


Free Wi-Fi is available anywhere in the venue.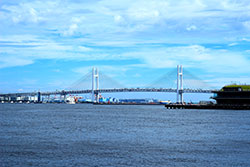 Yokohama, is the first harbor city introduced to the world as the entrance to Japan. Since the time its port was opened, Yokohama has been vigorously acquiring new cultures and information from foreign countries and introducing to Japan our country's first-time-ever things from food to a wide range of cultures, which entitles Yokohama as the birthplace of Japan's modern culture. The Yokohama, referred to as "Hamakko" in Japanese, has been very cheerful at enjoying life and willing to adopt whatever is good. Such a tradition of the "Hamakkos" cultivated long ago has been incorporated into the present fashionable and sophisticated streetscape.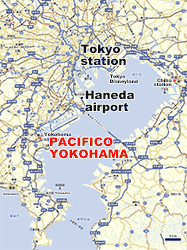 Yokohama is located in the centre of Japan, along the coastline of Japan's Pacific Ocean, and one of the 15 Japanese Government-designated cities. The total population of Yokohama is 3.7 million persons, making the city the second largest after Tokyo's 23 Wards. A number of foreign enterprises have established their branches in Yokohama by taking full advantage of the Yokohama Port which is an international trading port. Yokohama is a city of dreams for every Japanese person as well as its local citizens who are very proud of living here because it is not only very famous as a tourist mecca, but also has every urban function including, but not limited to, business and culture.
---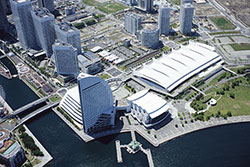 The conference venue is PACIFICO Yokohama.
It is a world-class convention complex is located on the waterfront of "Minato Mirai 21", a futuristic town in Yokohama. Yokohama has been a window to the world since it opened the port to trade in 1859. Capitalizing on Yokohama's history and internationality, PACIFICO Yokohama has hosted a great number of conferences. In such a beautiful seafront location, people from all over the world meet and talk to produce new values. For successful conventions, PACIFICO Yokohama provides optimum venues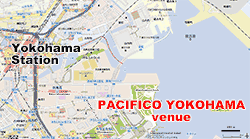 and services (including accessibility, comfortable ambient surroundings full of water and greenery, latest facilities and the best support systems by the experienced staff members).
---
From Airports
We have 2 airports, Haneda (HND) near venue and Narita (NRT) far from venue.
For both the airports, bus is the best way to the Venue, Yokohama, because of no transfer but direct run. Trains seem complicated for travelers, in particular, not so often to come to Japan.
Both the buses run basically hourly. It takes 1 hour from Haneda to Pacifico Yokohama, or Intercontinental Yokohama Grand Hotel, and 2 hours from Narita in direct run.
Detailed bus schedule is shown in Keikyu Bus Information from haneda and in LimousineBus from Narita. you can also see the access inforamtion of Intercontinental Grand Yokohama Hotel and Pacifico Yokohama.
---
INFORMATION
If you want to contact us, could you please send an E-mail?
E-mail address is

---